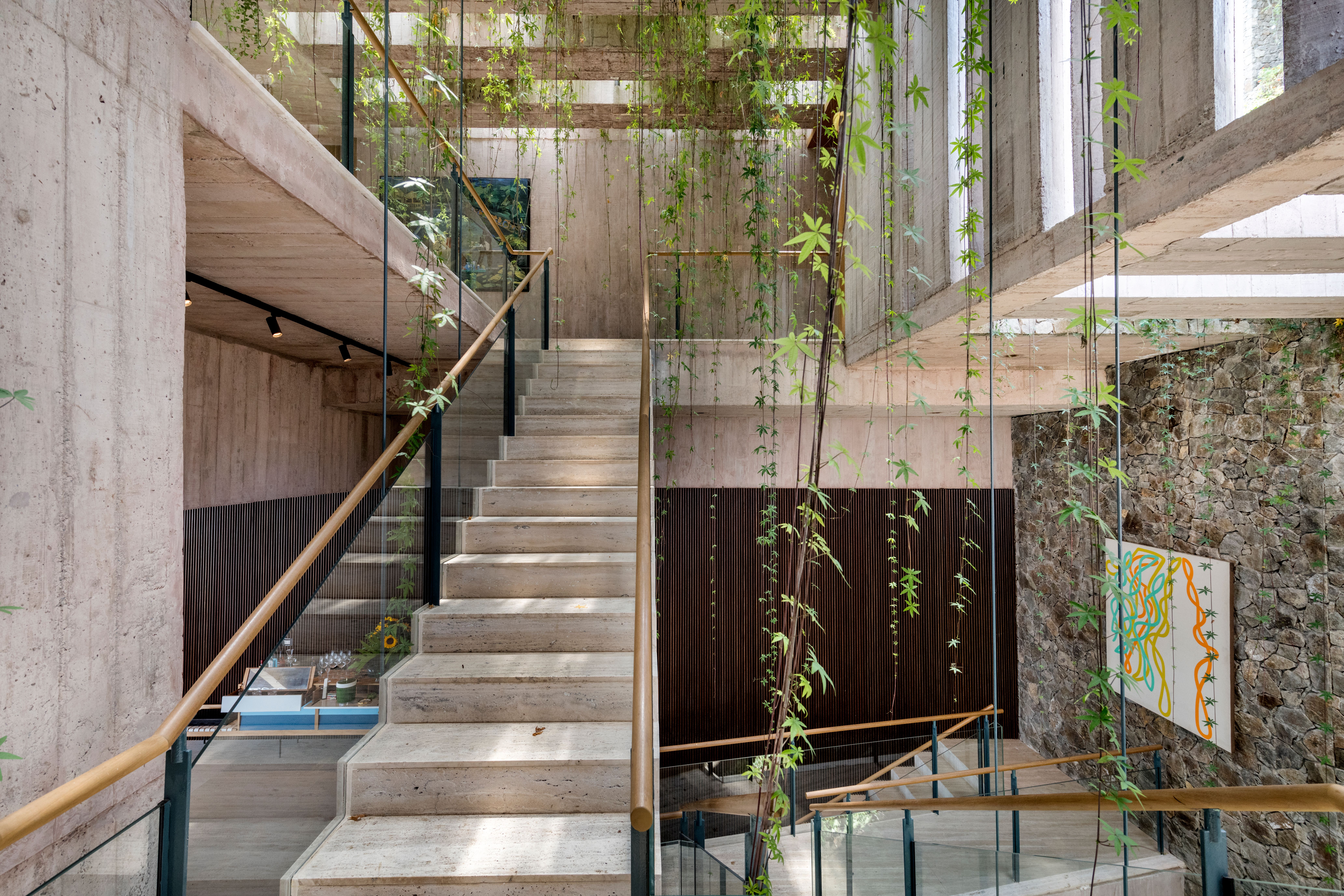 Casa Anconera
Ancon, Lima (2018-2022)
House


We were commissioned to design a beach house on a rocky cliff descending >33m to the sea in the historic bay of Ancón. Given the large number of rooms that the house required, both for the family area (7 bedrooms) and for the extensive social program, it had to be developed on 6 levels.
Thus, the biggest challenge consisted of avoiding a volume too big, with the scale and appearance of an apartment building, and achieving instead playful spaces that take advantage of the beautiful landscape of the beach resort town. For this, each level took its own spatial and formal logic. The house is a cascade of volumes and terraces that descend the cliff to the sea. The great 50s and 60s modern architectural heritage from Ancón was taken as a reference to find an appropriate language for the place: an Anconera house.
To balance the unidirectionality from the obvious attraction of the sea view, a large 4-level cavernous void with lush vegetation is carved out of the rock and illuminated from above.
Each transition between one level and the next is solved differently for achieving the greatest spatial diversity: A Piranesian staircase hanging inside the void connects the upper volume (access and master bedroom) with the second volume (living, dining room and kitchen).
The materiality of the house avoids contrasting with the landscape. It reuses rocks from the terrain and a reddish exposed concrete. The house will age blending even more with its surroundings by the action of the sea breeze and will eventually get covered with a green veil of the hanging vegetation.


DESIGN TEAM: César Becerra, Fernando Puente Arnao, Manuel de Rivero with Daniel Aristizábal, Melisa Cigueñas, Michelle Cavero, Bruce Wong.
SURFACE: 1634m2 (House), 436m2 (Service House)
LOCATION: Ancón, Lima, Peru.
YEAR: 2018-2022
CONSTRUCTION: Ing. Hernan Mendivil
ADVISORS: PRISMA (structure), Claudia Paz (lighting), AITEC (MEP), Raul Arrospide (Landscape), Kathy Grimberg (interior design)
CLIENT: Private
PHOTOGRAPHY: 51-1, Renzo Rebagliati, Cristóbal Palma.