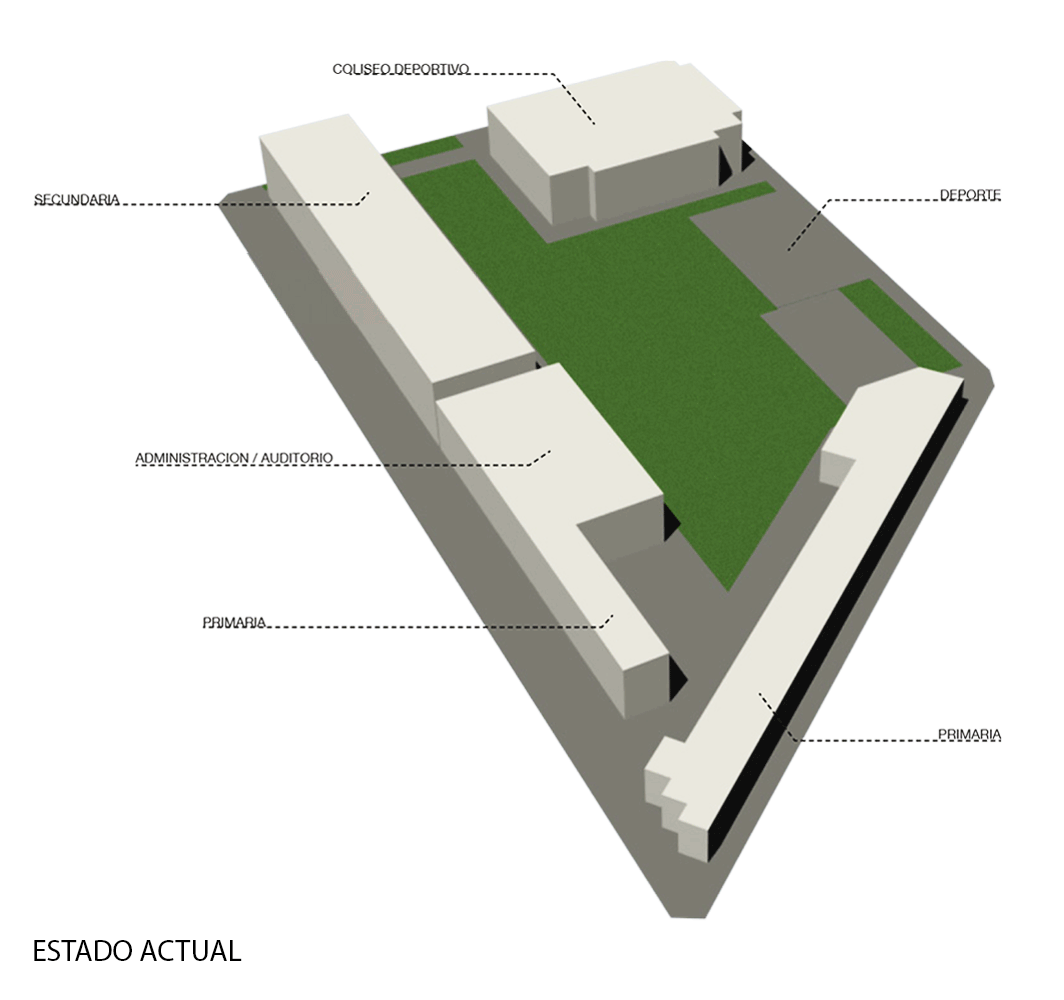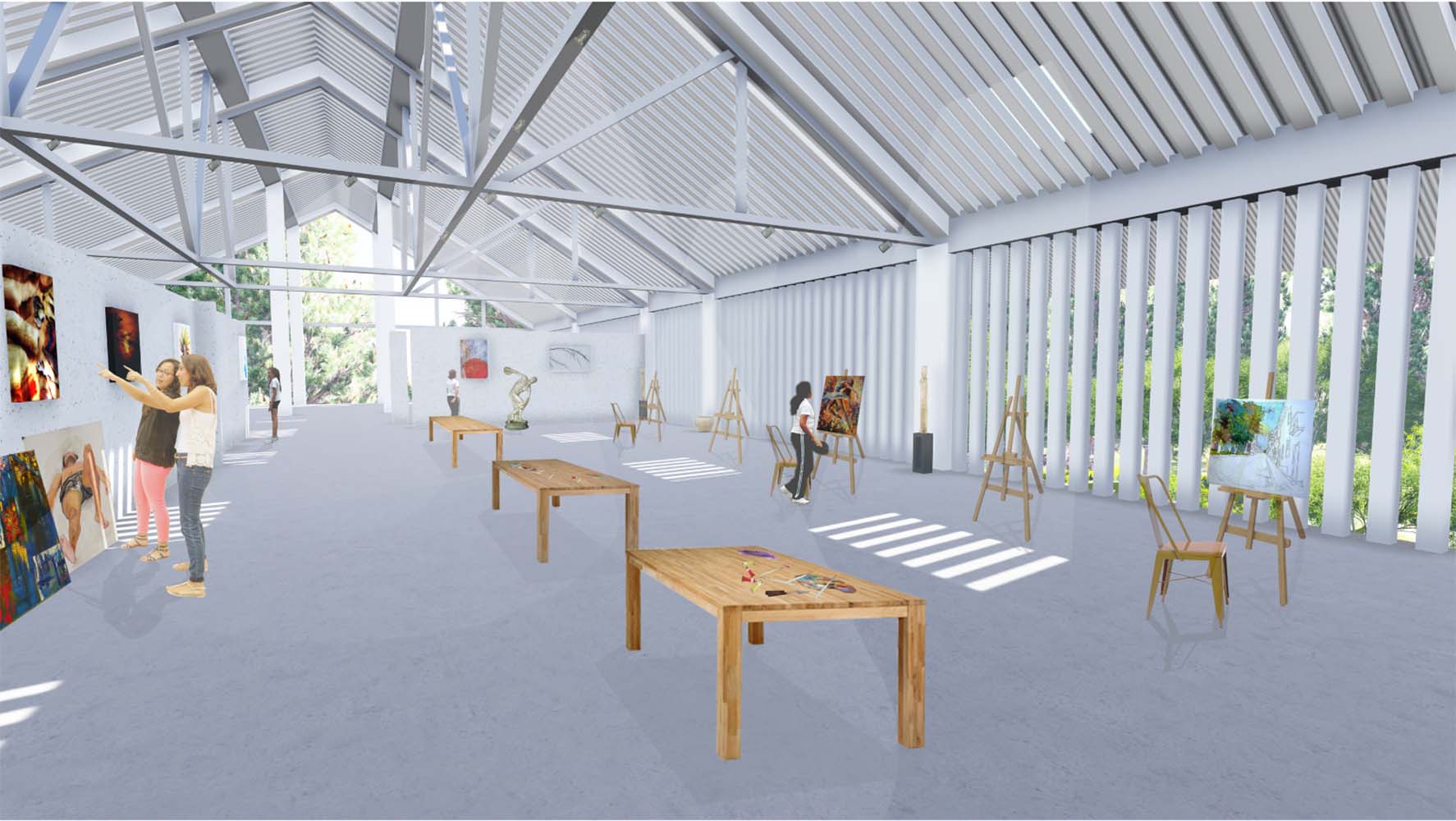 San Silvestre
Miraflores, Lima (2014)
School renovation, Competition Preliminary Design

We were asked to imagine "how San Silvestre could be converted into the best school in the world…Everything could be demolished, maintained or built, just bearing in mind that the school's normal functioning should not be interrupted."
In recent years, the evolution of pedagogies have also involved an evolution in the architecture of schools. Throughout the world, the changes and new sensitivities that have been generated in society are manifested in schools. Researching the state-of-the art of educational venues in the world, we found four trends that could be used to update San Silvestre:
1. Age Differentiated Spaces
Previously, educational spaces had the same spatial scheme for all ages: martial and hierarchical pavilions with classrooms on each side of a corridor. Only in the best cases playgrounds were separated according to age and the furniture was adapted to the corresponding scale of the children. Contemporary pedagogy recognizes that each section requires a particular spatiality:
- In early years, students require fragmented spaces on a smaller scale and with a certain domestic condition. The model is a kind of village where you can discover a diversity of conditions.
-In primary school, students are shaping their socialization and it is convenient to have a clustering model that allows them to be part of a group, while being very aware of others.
-In secondary school, students are already adult-sized and begining the process of inserting themselves into a society with rules and responsibilities, which favors a more structured and hierarchical spatiality, as in a pavilion.

2. Flexible spaces


Previously, educational spaces had specific uses: the lessons were given in classrooms with a rigid formation of desks, all looking straight ahead and following a school text line. Basketball was played in a basketball court and volleyball in a volleyball court, the library was solely for reading... a school was the sum of the classrooms for each subject. Although previous uses are maintained, pedagogical research reveals that school activities are increasingly diversifying and becoming more flexible. You not only learn in classrooms, you can work on projects outside, even in outdoor areas, you can do it in groups, you can recreate new scenarios. A contemporary school must contain the usual spaces, but also a series of indeterminate spaces that sowe the pedagogical proposal with potentiality.


3. Contact with Nature


Before, outdoor areas of schools served for the practice of sports and for aesthetic gardening. In our times when the food of city dwellers comes packed from the supermarket, and the environment is every day more imbalanced, it is fundamental that in a contemporary pedagogy contact with nature is maximised and an academic and ethical functionality is enforced. In Lima, a city with such limited green areas, a leading school like San Silvestre makes the maximum effort to optimize possible green area. This not only positively affects the quality of life of its students, but also of the city in general. 4.

Simultaneity of Public Infrastructure


Schools have a series of infrastructures (theatres, auditoriums, sports facilities, parking) that have the potential to be used externally outside of school hours, either to increase the relationship of the school with their community, or to generate income that can sustain their costly implementation and operation costs. The key of a contemporary school, is that these infrastructures can be arranged in such a way that they have total autonomy regarding the operation of the school and its access, so that they can be used even at the same time.

With all findings from the research, we worked a proposal that -through carefully choreographed phasing- could turn San Silvestre into the best school in the world.

DESIGN TEAM: César Becerra, Manuel de Rivero, Fernando Puente Arnao with Favio Chumpitaz, Alonso Lozano, Franco Vergaray

SURFACE: 35,400 m2
LOCATION: Miraflores, Lima
YEAR: 2014
CLIENT: Colegio San Silvestre