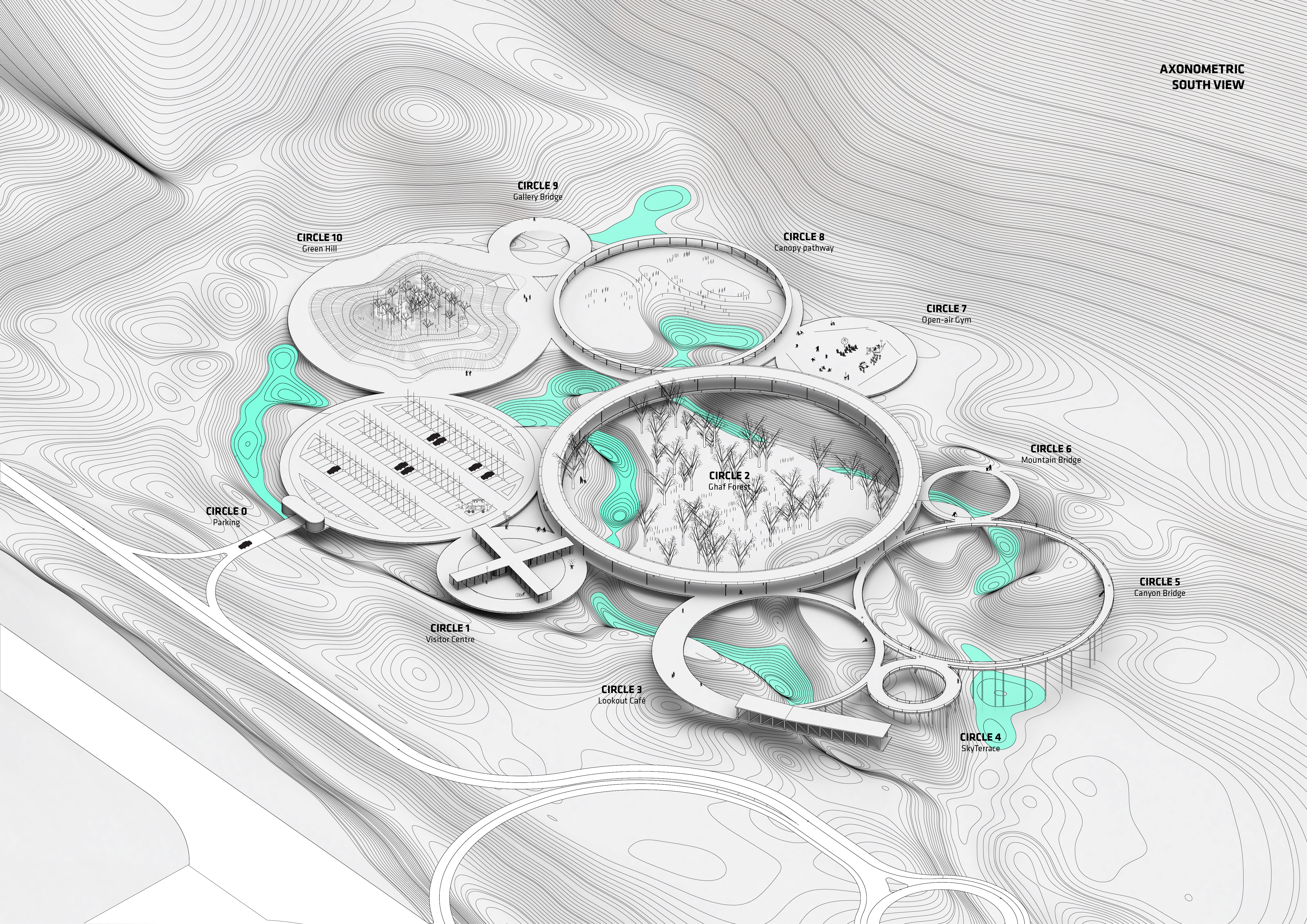 Wadi Weshi Park
Sharjah, UAE (2021)
Competition, 1st price
Preliminary Design

Al-Hajar Mountains constitute a great contrast to the UAE's 80% sand dunes plateau. Home to the highest concentration of native plant diversity in the UAE, where differences in altitude, aspect, hydrology, temperature, and bedrock provide suitable habitats for plants to establish. Due to that, its innumerable wadis constitute an important leisure offer to emirati population.

Wadi Weshi park is located in an irregular terrain outside the city of Khor Fakkan.

As a new addition into the series of leisure destinations in the mountains, the project takes the existing natural wadis and excavates new falajs (canals) and pools to create a diverse new landscape of a fresh shaded and humid underworld and a green wooded surface on top for a diverse array of outdoor activities.

To articulate the park, a pathway system is built via bridges, excavated trails and shaded walkways. The circle is the most efficient shape in terms of area to perimeter. Therefore, a system of circles generates the least amount of paths, servicing the largest park area.

The rings that make the pathway system frame the topographical diversity of the landscape and by keeping an artificially precise constant elevation they make explicit the beautiful irregularity of the Al-Hajar Mountains.


DESIGN TEAM: 51-1 César Becerra, Manuel de Rivero, Fernando Puente Arnao, Martin Cajade with Cristian Zuñiga, Rodrigo Muñoz, Ignacio Ugarte. SPMC Jeremy Spencer, Inadi Cilliers

SURFACE: 85213 m2
LOCATION: Sharjah, UAE
YEAR: 2021